With the recent migration, you might be wondering how to re-activate ModuleQ in the LSEG Teams tenant.
Why is ModuleQ still in the Refinitiv Teams tenant?
Although ModuleQ still exists in the Refinitiv Teams tenant, that version will no longer be maintained and is not connected to your inbox since it has recently been migrated to LSEG. It will be discontinued in April, 2022.
What should I do now?
After the recent announcement of Refinitiv AI Alerts powered by ModuleQ, we have re-branded ModuleQ to Refinitiv within the LSEG Teams tenant. To get started, follow the steps below!
Step 1:
Check the left-hand sidebar in your LSEG Microsoft Teams application.
If you see the Refinitiv logo, please click on it and skip to Step 3.
If you do not see the Refinitiv logo, please click on the Apps store and search for "Refinitiv".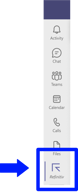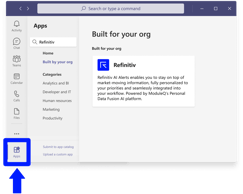 Step 2:
Once you find Refinitiv in the App store, click "Add" and this will add the application to your Microsoft Teams account.
Then, go back to your Microsoft Teams chat and look for a message from the Refinitiv AI Alerts bot.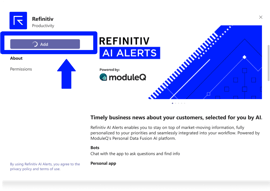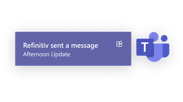 Step 3:
Refinitiv AI Alerts will introduce itself in your Chat and prompt you to begin the activation process.
Click "Let's Get Started" and complete the authentication process.
Important Note: Please make sure to authenticate using your @lseg.com email address.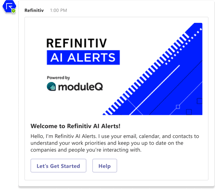 There is a caching issue due to the migration that will cause a known error. Please follow step 4 to resolve this.
Step 4:
When you navigate to the Profile or Settings tabs, do you see the following message?

If so, simply sign out of Teams and log back in using your LSEG email address.